Craft Beer in St Cloud
Perfect for picnics, terrific with tubing, beer goes with everything. Hop in the car and drive 22 short miles east on US 10 to Saint Cloud – home of three craft breweries. A tasty way to spend the day.
Beaver Island Brewing
Three friends made craft beer in a garage. Now their brews are famous. Visit Beaver Island Brewing to try 20+ beers, including seasonal craft beers and special brews. Beaver Island produces lagers, wheat beers, farmhouse ales, IPAs, and many other styles including hard cider and hard tea.
Bring your well-behaved dog and have a craft beer on the patio. Special deals will bring you in, special beers will bring you back!
On Thursday, buy a growler or pint and get the second for a penny
Friday – $5 off growlers, noon – 3pm
Saturday – Buy a growler, get a pint free
Sunday – Buy two growlers, get one free
Beaver Island Brewing is at 216 6th Avenue S in St Cloud.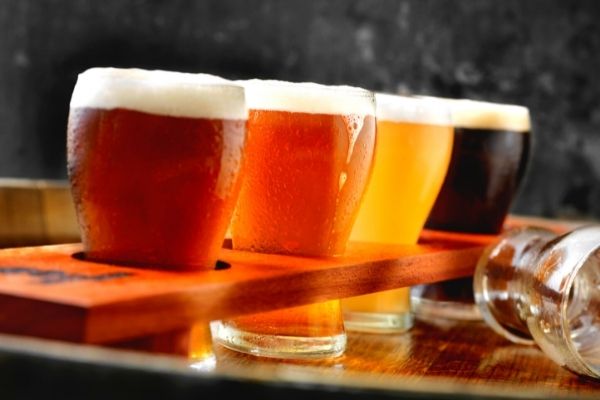 Craft Beer at Pantown Brewing Company
Stop in and try craft beer from Pantown Brewing Company, a locally owned St. Cloud brewery.
Try a flight of beers or a pint. Take a Crowler or Growler to-go. The brewery has 2 floors of seating and plenty of board games to amuse you for hours. Try their flagship beers…
1917 American IPA
Classic Cream Ale
Drop Forge Milk Stout
Bluemound Road Mulberry Kettle Sour
Named for the Pan Automobile Company that produced 735 cars from 1917 – 1919 in St Cloud, Pantown Brewing offers seasonally rotating beers too. Pantown can be found at 408 37th Avenue N in St Cloud.
Granite City Food and Brewery
Granite City is a casual chain eatery with an American comfort-food menu plus craft beers brewed on-site. Children are welcome. Granite City's signature beers include The Duke (Pale Ale), The Bennie (Bock), The Northern (American Lager), Zug Zwang (Vanilla Porter), Granite City Seltzer.
Try brunch and craft beer at Granite City, 3945 2nd Street S in St Cloud.
Meanwhile, back where the Mississippi meets the Platte
The two swimming pools and waterslides open on Memorial Day! Raise a glass of craft beer to tubing on the rivers, all the amenities at Two Rivers Campground and the other attractions in Royalton, and book your May getaway. Two Rivers Campground fills up fast!