Tubing in Minnesota
Lots of summer left! Plenty of time to go tubing in Minnesota, especially on the laziest of lazy rivers – the Platte. And guess what? The Platte runs right beside Two Rivers Campground!
Round up your family and friends, grab a cold six-pack, and rent a cooler tube or a regular tube to go tubing in Minnesota. Float down the Platte River and enjoy being lazy in the sunshine. Tomorrow morning when the sun comes up all bright and hot, do it again – tubing is our favorite sport.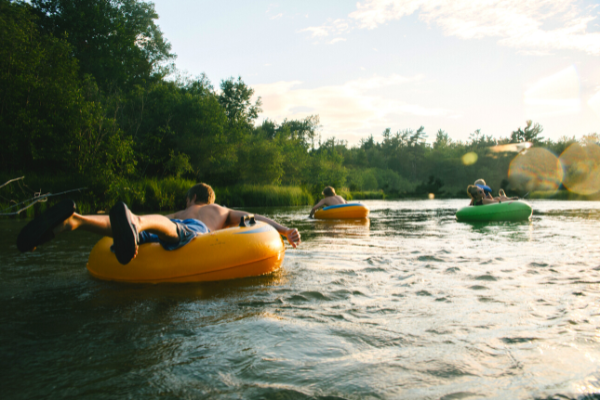 Hot Weather and Tubing in Minnesota
It can be pretty darn hot here in Royalton with temperatures hitting the high 80s and even breaking into the 90s in July and August. That's perfect tubing weather. So pack your swim suit and reserve your stay at Two Rivers Campground for an unforgettable summer tubing adventure.
Plus, Tube-less Fun Every Day of the Week
Want to do something else while you are enjoying your wonderful vacation here at pet-friendly Two Rivers Campground? Check out all these other activities and amenities…
Two swimming pools with lots of lounge chairs and water slides
River beach
Mini-golf
Two playgrounds
Game room and video arcade
Fishing & boating on the River
Camp store with snacks, groceries, RV supplies and everything you forgot
Picnic tables and fire rings
Book exchange
WiFi
Air conditioned TV room
Dog park
And, of course, beautifully landscaped Two Rivers Campground has all of the other comfortable and convenient features you've come to expect, like a modern laundry facility, immaculate showers & restrooms, gated security entrance, and onsite management to attend to all your needs.
What are you waiting for?
Summer won't last forever, but there's still some time for a summer vacation. Pack your swimsuit and go tubing in Minnesota on the gloriously lazy Platte River this July and August.