Visit Crane Meadows National Wildlife Refuge
Established in 1992 to protect one of the largest, most intact wetland complexes remaining in central Minnesota, the refuge is made up of 14 different parcels of land, featuring a rich mosaic of meadow, shallow lake, savanna, prairie, shrub land, and forest habitats. When you reserve your stay at Two Rivers Campground, you are only 11.4 miles away from hiking the Platte River Trail and searching for wildlife at the Crane Meadows National Wildlife Refuge in nearby Little Falls. Just take US-10 to see more than 200 species of birds, including the high-flying bald eagle. Keep your eyes open – you might spot a white-tailed deer, a bobcat, or a fox when you visit the Refuge at 19502 Iris Road in Little Falls.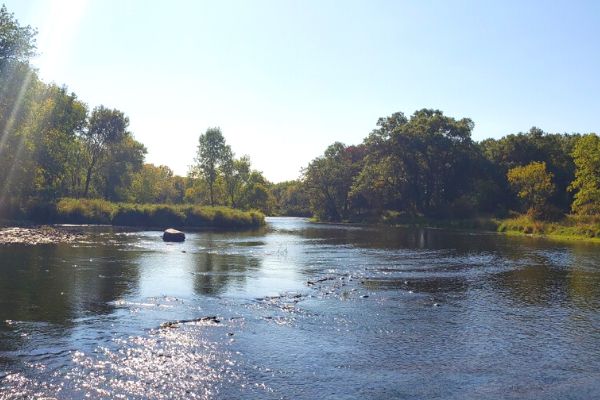 Through the Seasons at Crane Meadows National Wildlife Refuge
The 2,150 acres of Refuge provide critical habitat for many species. Visit during the spring and be treated to the land beginning to wake up from the long winter. Green grasses pop up and early flowers, such as prairie violet, bloom and add color to the landscape. American woodcocks perform their courtship displays of sky dancing at dawn and dusk.
Summer ushers in more blooming flowers, baby animals, and a multitude of insects. By mid-summer, observant visitors may be treated to the sight of rusty-colored sand hill crane colts, following their parents and learning to forage on insects and invertebrates. You'll see fawns in the prairie and savanna following their mothers around.
Fall is the ideal time for leaf-peepers, when the Refuge offers spectacular color. The reddish hue of big blue stem, the golden glow of aspen, and the dark reds of the bur oaks, provide a perfect backdrop for the many species of songbirds and waterfowl on their southward migrations. Wood ducks are one of the earlier waterfowl migrants. Get to the Crane Meadows National Wildlife Refuge before the end of September to see these birds in beautiful plumage.
Enjoy a Season of Camping in Your Own Affordable RV
See Crane Meadows National Wildlife Refuge and all of the other beautiful, natural sights at Two Rivers Campground when purchase an RV of your own. Consider an affordable, gently-used, pre-owned RV. You'll save thousands of dollars and be at the top of the list for a seasonal campsite here at Two Rivers Campground.