Your First Fish Dinner of the Season
You've been waiting impatiently for May 1 to roll around so you can ditch the city and say 'hello' to camping, tubing, and fishing at Two Rivers Campground when the summer season begins. Reserve your stay now and catch that fresh fish dinner you've been hungering for.
Fishing from the Beach or from a Boat
Fishing is popular on the Platte River, with walleye pike, northern pike, channel cats, and smallmouth bass being the most abundant species. Of all the wily fish trying to elude your bait, walleye is the most sought-after fish of all, says the Department of Natural Resources.
So, you take your rod and reel to the beach on the Platte or launch your boat into the mighty Mississippi to spend the day having a cold beer or two and angling for your fish dinner. Oh boy! You've caught a mess of fish! Now what?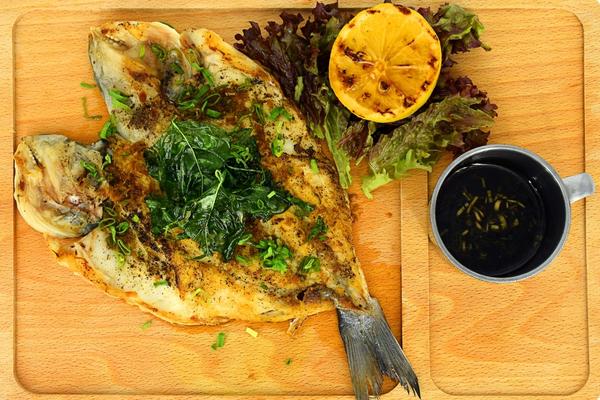 Walleye Pike Fish Dinner
Walleye is popular for its unique taste, offering a subtle mild flavor, flaky fillets, and firm texture. Although walleye is pink when raw, it becomes white when cooked. Here's how to prepare your first fresh-caught fish dinner of the camping season…
Ingredients
4 walleye fillets
Salt and pepper
5 Tbsp canola oil
¼ cup butter
3 sprigs fresh thyme
2 Tbsp Flat-leaf parsley, chopped
Lemon wedges
How To
Pat the fillets dry with paper towels, then season with salt and pepper.
Heat a large skillet and add oil. Place the fish skin-side down and reduce heat to medium. Cook for around 2 minutes. When the fish are nicely brown on the bottom, it's time to turn them.
Flip the fish, then add the butter and thyme to the pan. Scoop the melted butter and herbs onto the fish for about 1-2 minutes until cooked through. The fillet should appear golden on the outside with an appetizing moist, white interior.
Sprinkle parsley over the fish and serve immediately with lemon wedges.
Pro-Tip!
Fish continues to cook after removing it from the pan, so stop cooking a little before it is ready.
Hello Two Rivers Campground
Sure, you could have a fish dinner in a restaurant back home, but nothing beats the taste or experience of a meal you caught and prepared with your own two hands, served on a picnic table beside your RV at Two Rivers Campground.
Camping Season is Almost Here!