Your Seasonal Campsite May 1 – October 1, 2023
Seasonal sites overlooking the Mississippi River are much in demand. Have you secured your piece of Paradise yet? When you lease your seasonal campsite, you have the freedom to leave your RV and come and go as you please. It's an RV vacation home and it's all yours.
So, lease a piece of Paradise. Just a few RV spaces are available on a seasonal basis. Bring your RV and enjoy shade trees, a view of the Mississippi River, full hook-ups including 20/30/50 amp electric and water, dump station, picnic table, fire ring, and the use of all amenities.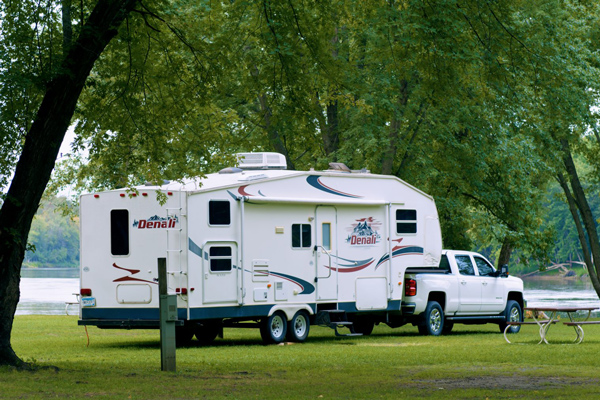 Your Seasonal Campsite Packing Advantages
Instead of packing, unpacking, and repacking every time you visit Two Rivers Campground, you can plan ahead to make your RV vacation home even more home-like and do it the easy way.
Why buy piles of paper plates, only to throw them away? Melamine dishes from the discount stores will last all season – and then some – and they don't break.
Pick up an Instant Pot or Crockpot to increase your RV kitchen's capability. Great for seasonal campsite stays and planning more interesting meals.
Stock up on dry and canned goods to cut down on shopping trips.
RV supplies and first-aid – Keep enough supplies on hand to last the season.
Swim suits and sports gear – Pack all that stuff once and you'll have it all season long.
Bug spray, sunscreen, and toiletries – Get the big sizes.
Then, when you hop in the car and head back to the city in between vacation days at Two Rivers Campground, all you'll have to remember is your family and the doggie. The rest of the stuff can say behind until your next visit.
While You've Been Gone
Just when you thought things couldn't possibly get any better at your Two Rivers seasonal campsite…they did! When you reserve your stay for the 2023 Camping Season, you'll find even more staff members for improved customer service, an incredible covered jump pad so the kiddos won't get sunburned on hot rubber, and Hi-Speed Fiber Cable for fast internet access so you can work remotely and stream your favorites shows and movies.
Thanks to You, Two Rivers Campground is More Popular Than Ever!
Check the availability of a seasonal campsite by calling (320) 584-5125